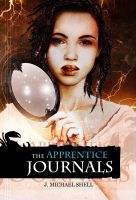 Available Now!
Spaul is an Apprentice, and he may be one of the last. Without the Apprentices' ability to speak to the elementals, what's left of humanity may not survive. But when Spaul meets Pearl—a powerful Female Apprentice thought to exist only in myth—his world and everything he understands about the elementals changes.
Mute from age five, her voice stolen by a mysterious fever, Pearl amazes Spaul with Apprentice Majick he'd never dreamed possible. Wanting Pearl to be able to explain her majick, Spaul takes her on a quest to find her an elemental voice. But they soon discover that they're being followed by one of the most powerful of the four types of elementals, who has plans for Pearl and a terrible desire for Spaul. Eventually, this fire-born lady, known as a "Fierae," merges with Pearl, stealing her body to become the Fierae-human elemental "Starshine."
Now Spaul must discover what the Fierae have planned for humankind. He must also rescue Pearl from her mind-sea, where Starshine holds her prisoner. And he must do it quickly, before he falls hopelessly in love with the stunningly beguiling "Star."
From the slaver land of Tara to the shores of Ginny's Beach, ride the mag lines with Spaul and Pearl as they do their best to deal with fickle elementals, as well as their growing—and dangerous—love for one another. Dangerous because, as they learn from the "Fierae"—the Lightening Elementals—Love is Above the Rules.
Buy Now £9.99
Ebook editions: