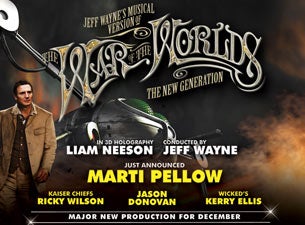 "Across the gulf of space, minds immeasurably superior to ours regarded this Earth with envious eyes, and slowly, and surely, they drew their plans against us . . . "
At Dog Horn, we like to keep our readers aware of things in the science fiction/fantasy world that may interest them. For this reason, we're keen to draw your attention to the UK tour of Jeff Wayne's musical adaptation of SF classic The War of the Worlds.
The UK tour coincides with the release of a new double album out now.
The stage show adapataion features a cast of A-listers, including Liam Neeson, Gary Barlow, Maverick Sabre, Joss Stone, Alex Clare and Ricky Wilson.
Originally released in 1978, Jeff Wayne's Musical Version of The War of The Worlds remains an award-winning landmark masterpiece that has continually won new fans, spending over 330 weeks on the UK chart to date, reaching No. 1 in 11 countries and selling over 15 million copies.
Now Jeff has embarked on a new interpretation with guest stars every bit as talented as their illustrious predecessors.  He has once again brought HG Wells' classic novel to life as a new deluxe hardback 2CD album, digital download and special double vinyl (its original format) with lavish 52 page booklet and poster.
Two of the modern era's most respected artists, Oscar-nominated actor Liam Neeson and singer/songwriter/producer Gary Barlow will play the two key roles of The Journalist and The Sung Thoughts of The Journalist.
Gary will be the new voice of the two international hit singles 'The Eve of The War' and 'Forever Autumn'. A life-long fan of the original album, he was most excited at the chance to appear on the new one.
Thirty-four years on, Liam Neeson inherits his role from Richard Burton.
Fellow Loiner (that's people born in Leeds, for those of you outside the UK) Ricky, fresh from a world tour with the Kaiser Chiefs and Closing Ceremony triumph at the Olympic Games, takes over from David Essex's classic rendition as The Artilleryman.
Bringing a fresh sound to the role of Parson Nathaniel is acclaimed new singer Maverick Sabre. Originally performed by Thin Lizzy's Phil Lynott, Maverick performs with Joss Stone, the clever choice for Parson Nathaniel's wife.
Hot new talent, Alex Clare, following his breakout hit 'Too Close' (from the Internet Explorer ads), takes over as The Voice of Humanity,  originally recorded by Chris Thompson.
Tickets and tour dates are available here.